At the CrossRoads:
Tyler Jorgenson found himself at a crossroad in his business. He was the guy who was making a name for himself talking about lifestyle design. He was preaching about how critical is was for entrepreneurs to focus on the quality of their lives. Rather than the quantity of money they could be lining their pockets with.
One morning Tyler found himself standing in front of the mirror. It was then he realized he had gotten caught up in the very thing he warned people against. He fell in love with too many businesses, got involved in too many projects. Jorgenson felt like he was going to burn out if he didn't do something quick.  Each of the projects had merit, they had real potential, so how would he decide which ones to commit to? How would he know which ones to put on the back burner?
When Tyler logged onto Facebook to check on some add sets he created, he saw a meme he had seen many times before. It read: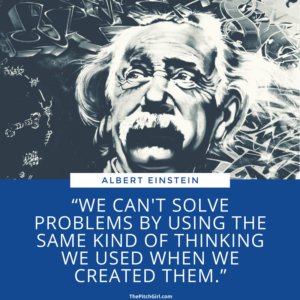 He had seen that quote so many times before, placed inside different meme designs. Today it struck a chord. His current thinking had worked well in so many ways, but now he was stuck. The only way out, was to think differently.
He took that idea one step further: "If I'm going to solve this problem I need to do something different. I need a new perspective."
He thought back to the last time he was completely out of his element. It was his #48HourPowerJaunt to Bogota. You can read about that here: 48 Hours in Bogota
"Another power jaunt is exactly what I need to gain a new perspective. It will help me to decide what I want to focus on and what I want to leave behind. This #48HourPowerJaunt to Iceland will take me even further outside of my comfort zone. Even more than my jaunt to Bogota, Columbia did." –Tyler Jorgenson
Gabriella Ribeiro created 48HourPowerJaunt.com as a way to help entrepreneurs. The purpose is to get busy people get away from it all, if only for a few days. The best part is you leave all the planning to Gabriella and her team. You deal with your projects and they will deal with your adventure.
She would tell me.
"I kept meeting people who would tell me, I'd love to travel. I don't have the time. I thought to myself, well I'm a single mom and I run three businesses. I'm busy too but I always find time to travel. I know I'm able to pack a lot of high-quality activities into a very short period of time."
Laura Allen: How do you always make the time to travel when you are busy with projects?
Gabriella Ribeiro: "Travel is a necessity for me. It's not a luxury and it's not optional. It's something I need to feed my soul and to keep growing and learning as a person. I made it a priority in my life. Then, I designed my businesses to suit those needs. I made it possible for the business to run without me for a few days at a time, so that I can travel in short bursts when I want to."
Laura Allen: How did you come up with the idea for 48HourPowerJaunt.com?
Gabriella Ribeiro: "I was on a trip to Scotland with my daughter who was 8 at the time. We decided to try to find the Loch Ness monster. We had so much fun, we got so much accomplished in only two days. I decided that this would be a great service for other busy people. The idea was to come up with an action-packed itinerary. Then, the client who was going to embark on the jaunt, would just pack their clothes and head to their front door. A car would be ready to pick them up and whisk them off to the airport.
I realized, in my own life, that if I planned the right trip, I felt like I'd experienced the best a place has to offer. I'd come back home feeling re-charged and ready to get back to business. I wanted others to have this experience too!"
Here's the very quick video of Gabriella and her daughter Finding Nessie!
Laura Allen: What made you think of Iceland for the next destination of 48HourPowerJaunt?
Gabriella Ribeiro: "I spend a lot of time interviewing my clients. I need to find out what kind of adventure they'd like to have. After speaking to Tyler at length, I could tell he was doing extremely well, in so many aspects of his business and life, but there were a couple areas he was struggling with. I know from my own experience that if you get away from everything that is familiar, you free yourself. You are able to be more creative and start solving problems quickly and effectively.
I felt like Iceland–a ruggedly beautiful place–would be a completely different pace. Much different than the Jorgenson's home base of San Diego. I'm excited to see what Tyler thinks of this truly unique experience. Especially the Blue Lagoon."
Laura Allen: Tyler, I had the chance to interview Gabriella. I asked her about why she thought Iceland would be a great destination for you. Are you excited about going? How do you think this 48HourPowerJaunt will benefit you?
Tyler Jorgenson: "Iceland will be a hard re-set. The stark black and white landscapes. It will be different from my lush colorful San Diego surroundings, that's for sure! I want to disconnect from my everyday life, in order to re-charge and re-focus my business and my life.  My wife, Tanya, @TheBizNinjaWife will be joining me on this journey, which I'm looking forward to. We have four kids. Between us, we are running several separate businesses. The kids have their own entrepreneurial endeavours too, which we actively encourage. We want them to grow up to be self-sufficient."
Laura Allen. How do you both manage raising four children and building several businesses? Have you found some kind of "life balance" that eludes so many of us?
Tyler Jorgenson: "To be honest, I think we've given up on any kind of life balance.  I'm not sure that's possible. On most days, it's more like organized chaos, and that's okay. It works for us. I see this trip as a chance for Tanya and me to focus on what's most important. We'll talk about our family and our businesses. We'll take some much-needed time out for ourselves. I know that when we challenge ourselves and open ourselves up to new experiences, it makes us better parents. I can't say exactly what I'm hoping to get from this trip. I can only say that I'm very excited to go on this journey, and that we will be exploring many roads that are less travelled."